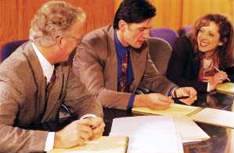 What do I want my career to be?Consider these two scenarios:1. Frank is a 48 year old attorney.
He has been financially and professionally successful. However, despite this
success, he frequently finds himself unsatisfied, questioning whether he should change careers or involve himself in more meaningful life activities.
2. Sharon is a 38 year old mother of two high school children.
They are preparing to leave home for college. She has postponed her professional career in order to stay home and care for her children.
She is now considering a return to the workforce, but is not sure where to start.
░░░░░░░░░░░░░░░░░░░░░░░░░░░░
Have you ever wondered if you are in the right job? Are you ready to make a change, but not clear with what is the next step?
Over the past 15 years our licensed professional staff have assisted over 700 clients wondering the same thing. We have found that the average professional changes jobs every 3 to 5 years, and may actually change career directions three times during a life time. But, all too often job satisfaction and a sense of fulfillment is elusive. Feelings of frustration, disappointment and even "burn-out" are all too common.
So what can you do?
The professionals at SA Counselors offer a variety of services from individual consultation and coaching to career testing. These services help us to identify your specific interests and your unique personality style. Once we learn "what makes you tick", we can then look at options for a new future.
How can I achieve my goals?
Following the written and verbal presentation of test results, our staff is prepared to further assist in these specific areas:
Identification of transferable and marketable skills

Functional resume development

Techniques for expanding a career related network of people

Development of specific letters of introduction and contact

Job interview skills

Salary negotiation strategies

Creating new or expanded job positions

On-going counseling support and consultation


Individualized services
Although we can provide several different levels of service, we make every effort to individualize the process to meet each specific person. We offer:
Free 15 minute phone consultation

Comprehensive testing and interpretation both in person and through email, on-line testing is also available! )

On-going and specific instruction and guidance

An experienced staff trained to address any emotional issues

Group seminars and workshops on career development

---
---