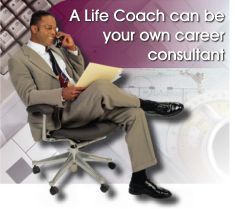 Why Life Coaching? Consider these two scenarios:1. Joe is a successful executive.
His 100 employees and managers look to him for direction and leadership. Sometimes he feels like "bouncing off" ideas or concerns and hesitates to do so with colleagues or friends. Instead, he handles it himself and regularly feels overwhelmed and stressed.

2. Susan is a young, talented professional.
She is in a business world that demands long hours and a competitive approach. Despite her success, she questions if her priorities in life are healthy and meaningful. Personally, she is feeling unfulfilled.
░░░░░░░░░░░░░░░░░░░░░░░░░░░░
Life coaching is not psychotherapy.
However, it does combine the strengths of therapy, such as non-judgmental listening and empathy, with practical action. It involves the establishment of a solid, trusting, professional relationship with a coach who then works in tandem with you to provide, in part, the following:
Evaluate and clarify your skills, experiences and abilities so you can realistically pursue your life goals and succeed!

Listen to and help integrate your hopes, dreams and spiritual values into daily life by developing specific strategies to achieve.

Guide you toward beneficial activities and attitudes that lead to improved self-care with increased life control and balance.

Identify any limiting beliefs and ineffective habits you may have and then provide non-judgmental but direct encouragement to push toward positive change.


Previous clients have found having an objective consulting professional providing regular and strategic guidance results in a life that is more balanced, healthy and successful.
Individualized services
Although we can provide several different levels of service, we make every effort to individualize the process to meet each specific person or situation. We offer:
A comprehensive personal evaluation of your life

Testing of personality preferences with in-depth interpretation

Development of a specific plan for strategic life change

Life coaches and licensed counselors to guide, support and direct

E-mail, Internet and person-to-person accessibility
---