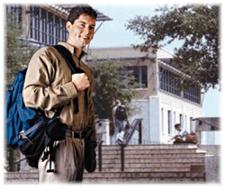 What do I want to do when I grow up?Jason, is a 19 year old College Freshman.
Although he knows he wants a higher education, he is not sure which specific academic major, or eventually which career, will be right for him. He enjoys several different, seemingly unrelated areas of study, but is concerned he may choose the wrong direction.
░░░░░░░░░░░░░░░░░░░░░░░░░░░░
For most teenagers and young adults completing high school, this inevitable question will likely come up: "Now, what am I going to do?" Typically, this loaded question at least implies whether college is in the plan, and if so, what major and eventual job has been chosen. It is more the norm that young adults between the ages of 17 and 21 years really are not fully equipped with enough knowledge and life experience to definitely make such a far-reaching life decision.

College, or no college?
College may or may not be the most realistic or rewarding choice. But if it is, deciding a major may be done based more on vague assumptions or on what good old "Uncle Joe" says is "hot". Unfortunately, too many people have pursued education, training and eventual job placement only to find they are unhappy and ill suited to perform in their chosen field.

Testing, evaluation, and guidance
The professionals at SA Counselors have developed a comprehensive testing and evaluation service to assist high school and college students crystallize appropriate career decisions. We offer:
Individualized and personal interview with the student and parents

Standardized testing in intelligence and academic areas, if needed

Testing and evaluation of personality preferences and interests

Comprehensive and written report identifying favorable career choice directions

Personalized interpretation of results provided in-person, phone, e-mail or Internet
On-going guidance and consultation if desired
---